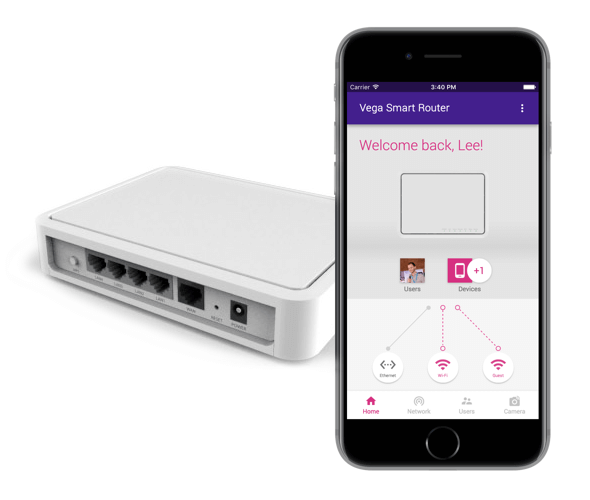 Vega the smart router, together with the companion app, gives all users the power to confidently and easily manage their home network from wherever they are. Reliable access to home broadband is becoming regarded as a basic right, on a par with other utilities. Customer expectations of the level of service are met so much better when home networks are secure and stable. Presciense plays a part in delivering that satisfaction by ensuring that all your customers can achieve the same level of network management previously the domain of specialists.
Analyse neighbourhood channel contention and automatically select the least congested
Set up and manage a guest network or a WiFi hotspot, for a visitor or even an event.
Be notified when a device joins or leaves the network, keeping track of the household
Block or restrict device access, useful for encouraging adherence to school night bed times for instance.
Vega communicates with smart home devices such as smart plugs, thermostats, appliances, sensors and cameras. The modular approach that Presciense has taken to building our unified platform facilitates the seamless introduction of new functionalities when you choose to offer your customers smart home improvements.
Presciense works with you and our hardware partners to fine-tune Vega's technical specifications to deliver a router that suits your costs and your users' needs. If you have already invested in 'dumb routers' and want to keep them while providing smart services, there are several options. Mira can be used in combination with existing routers. Alternatively, Presciense can integrate with your existing routers by enhancing their firmware, or another option is that we can supply a USB dongle which upgrades functionality. Contact us to discuss how Presciense can help you to provide your customers with smart home services.
Gateway comparison table
| Feature | Polaris | Mira | Vega |
| --- | --- | --- | --- |
| Display | 7" colour HD (720p) capacitive touch / Mobile app | Mobile app | Mobile app |
| Processor | Quad-core 1.3 GHz | 580 MHz | 580 MHz |
| Memory | 1GB DDR3 4GB Flash | 128MB DDR 128MB Flash | 256MB DDR 256MB Flash |
| zigbee | Home Automation 1.2 and Smart Energy 1.2b 2.4GHz (optional 868MHz) | Home Automation 1.2 and Smart Energy 1.2b 2.4GHz (optional 868MHz) | Home Automation 1.2 2.4GHz |
| Bluetooth | BLE 4.0 | N/A | (optional) |
| WiFi | 802.11n 2.4/5GHz | 802.11n 2.4GHz | 3x3 5GHz 802.11ac 2x2 2.4GHz 802.11n |
| LAN / WAN | 1x10/100 Ethernet 1xUSB2.0 | 1x10/100 Ethernet 1xUSB2.0 | 1xGigabit WAN, 4xGigabit LAN, 1xUSB2.0 |
| Security | OEM Key Verified Boot, X.509 certificates, Certicom Smart Energy | X.509 certificates, Certicom Smart Energy | X.509 certificates |
| SMETS | Combined IHD & CAD SMETS 1&2 | CAD SMETS 1&2 | N/A |
| Base OS | AOSP (Android) | OpenWrt | OpenWrt |
| Other | Speaker, Microphone, Proximity sensor | n/a | 2dBi Internal antenna |