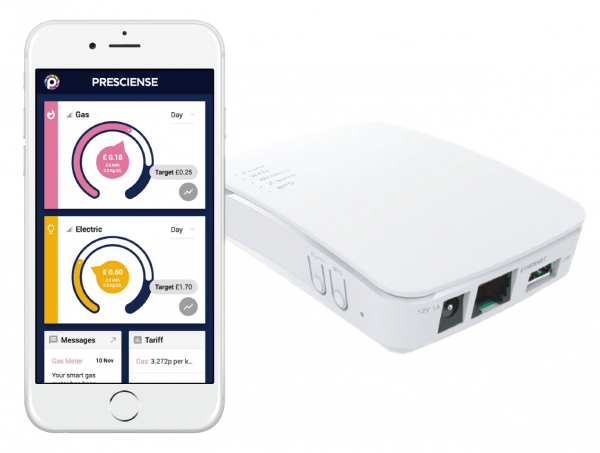 Mira is installed discreetly in the home and communicates with household smart devices using zigbee Smart Home Automation 1.2 and zigbee Smart Energy 1.2 profiles. Without the high definition touchscreen of Polaris, Mira nevertheless provides incredible functionality when paired with a companion app. Users install the fully branded companion app on their personal Android or iOS mobile device to securely monitor and control their energy use and their smart home devices from anywhere.
Utility customers will recognise Mira's specifications and capabilities as being a Consumer Access Device (CAD). Mira stores fine-grained energy consumption data, which is delivered in a meaningful and clear way to end users through the app. Mira invites engagement with energy consumption but as a home gateway which co-ordinates other smart home devices, Mira is indispensable thanks to the convenience and security that Mira and the companion app provide. Presciense's customers who choose to supply Mira with the intention that it is used solely as a home gateway can benefit from household energy consumption data when they partner with utility companies.
The modular approach that Presciense has taken to building our unified platform means that as you and your customers realise the benefits of living in a connected home, and want further comfort, security and convenience in an even smarter home, introducing new functionalities is seamless.
If you would like to discuss how Presciense would enable you to deliver smart home services to your customers, contact us
Gateway comparison table
| Feature | Polaris | Mira | Vega |
| --- | --- | --- | --- |
| Display | 7" colour HD (720p) capacitive touch / Mobile app | Mobile app | Mobile app |
| Processor | Quad-core 1.3 GHz | 580 MHz | 580 MHz |
| Memory | 1GB DDR3 4GB Flash | 128MB DDR 128MB Flash | 256MB DDR 256MB Flash |
| zigbee | Home Automation 1.2 and Smart Energy 1.2b 2.4GHz (optional 868MHz) | Home Automation 1.2 and Smart Energy 1.2b 2.4GHz (optional 868MHz) | Home Automation 1.2 2.4GHz |
| Bluetooth | BLE 4.0 | N/A | (optional) |
| WiFi | 802.11n 2.4/5GHz | 802.11n 2.4GHz | 3x3 5GHz 802.11ac 2x2 2.4GHz 802.11n |
| LAN / WAN | 1x10/100 Ethernet 1xUSB2.0 | 1x10/100 Ethernet 1xUSB2.0 | 1xGigabit WAN, 4xGigabit LAN, 1xUSB2.0 |
| Security | OEM Key Verified Boot, X.509 certificates, Certicom Smart Energy | X.509 certificates, Certicom Smart Energy | X.509 certificates |
| SMETS | Combined IHD & CAD SMETS 1&2 | CAD SMETS 1&2 | N/A |
| Base OS | AOSP (Android) | OpenWrt | OpenWrt |
| Other | Speaker, Microphone, Proximity sensor | n/a | 2dBi Internal antenna |