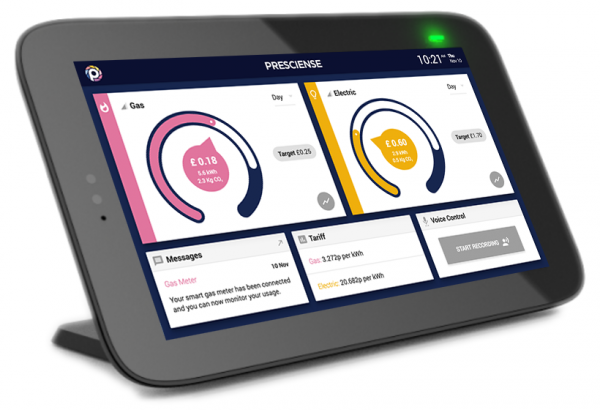 Polaris is a fully-featured home gateway that connects smart devices including utility meters, thermostats, smart plugs, appliances, sensors and cameras. Polaris becomes indispensable as a smart home management point because not only does it display information beautifully, but its voice control capabilities encourage users to interact with it.
Polaris is an Internet-enabled multifunctional device: an Android tablet with a 7" colour HD (720p) capacitive touch screen, microphone, speaker and proximity sensor, designed to be displayed in the home. Presciense works with you and our hardware partners to fine-tune Polaris' technical specifications to deliver a product that suits your costs and your users' needs.
Polaris acts as a smart gateway, communicating with and coordinating smart devices in the household. Polaris complies with the Smart Metering Equipment Technical Specifications (SMETS) 1 and 2, so it collects fine-grained data about household energy use. Utility customers will recognise Polaris as an In-Home Display (IHD) with an integrated Consumer Access Device (CAD), but because it is also a smart home gateway, Polaris is capable of more than displaying energy consumption data and costs. When linked with other smart home devices, it can play camera feeds, show device statuses and act as a control interface for them.
Additionally, Polaris provides an ideal medium with which to communicate timely and relevant details to your customers. You might be interested in warning your customers about their flood risk or severe weather in their area, or suggesting small changes which could improve their energy efficiency. Through delivering personalised advice, Polaris can help you to enhance your customers' experiences of your services, as well as open up new revenue streams.
Polaris is further embedded in daily life through two features developed by Presciense.
Presciense believe that voice interaction is no longer a novelty: voice capability drives interactivity and reduces reliance on seeing and accurately touching the screen. Utilities customers may be interested in using Amazon's Alexa to access spoken real-time energy use and cost updates. The chore of topping up a prepayment meter is banished by Alexa and Presciense's micropayment technology. The opportunities for voice-controlled smart home services are vast and varied.
The other feature that ensures the relevance and usability of Polaris, is that users can interact with it through their own mobile or tablet. The Android and iOS companion apps mean that the capabilities of Polaris are always available through the user's device, so they can securely monitor and control their domestic energy use and their smart home devices from anywhere.
The modular approach that Presciense has taken to building our unified platform facilitates the seamless introduction of new functionalities when you and your customers are ready to make further smart home improvements. Adding sensors, cameras or even other services become easy and inviting once the comfort, convenience and versatility of smart living have been introduced through Polaris.
If you would like to discuss how Presciense could help you to deliver smart home services to your customers, contact us
Gateway comparison table
| Feature | Polaris | Mira | Vega |
| --- | --- | --- | --- |
| Display | 7" colour HD (720p) capacitive touch / Mobile app | Mobile app | Mobile app |
| Processor | Quad-core 1.3 GHz | 580 MHz | 580 MHz |
| Memory | 1GB DDR3 4GB Flash | 128MB DDR 128MB Flash | 256MB DDR 256MB Flash |
| zigbee | Home Automation 1.2 and Smart Energy 1.2b 2.4GHz (optional 868MHz) | Home Automation 1.2 and Smart Energy 1.2b 2.4GHz (optional 868MHz) | Home Automation 1.2 2.4GHz |
| Bluetooth | BLE 4.0 | N/A | (optional) |
| WiFi | 802.11n 2.4/5GHz | 802.11n 2.4GHz | 3x3 5GHz 802.11ac 2x2 2.4GHz 802.11n |
| LAN / WAN | 1x10/100 Ethernet 1xUSB2.0 | 1x10/100 Ethernet 1xUSB2.0 | 1xGigabit WAN, 4xGigabit LAN, 1xUSB2.0 |
| Security | OEM Key Verified Boot, X.509 certificates, Certicom Smart Energy | X.509 certificates, Certicom Smart Energy | X.509 certificates |
| SMETS | Combined IHD & CAD SMETS 1&2 | CAD SMETS 1&2 | N/A |
| Base OS | AOSP (Android) | OpenWrt | OpenWrt |
| Other | Speaker, Microphone, Proximity sensor | n/a | 2dBi Internal antenna |